The Paytm Monsoon Mania Offer and Contest invite you to participate and stand a chance to win a guaranteed ₹700 cashback in your Paytm wallet. This challenge revolves around solving the Paytm Monsoon Puzzle Game. The 2023 season's hot offer is valid from the 17th to the 31st of July 2023.
Table of Contents
Introducing Paytm Monsoon Mania Participate in simple transactions, collect puzzle pieces with each payment, and look forward to substantial rewards. This puzzle game is your ticket to exciting rewards with every transaction.
What is Paytm Monsoon Mania Offer?
Exploring Paytm Monsoon Mania 2023 Upon participating in the offer, you will be presented with a "Paytm Monsoon Mania" Jigsaw puzzle. Participants must engage in various activities and payments through the Paytm app as per the offers detailed below to collect pieces of the jigsaw puzzle.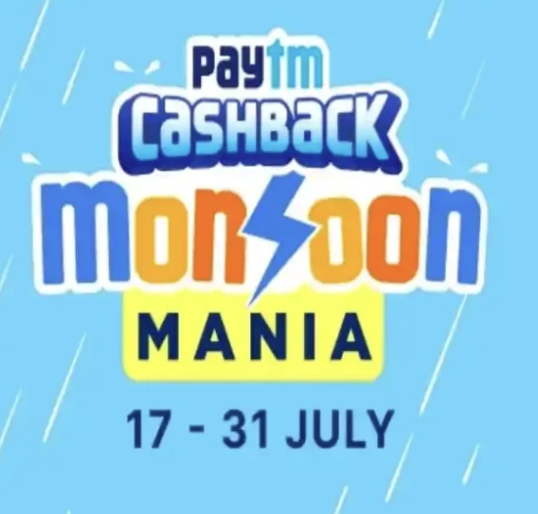 Collecting puzzle pieces such as Inging Bird, Sun Show, Vibrant Rainbow, Chai Love, School Se Chutti, Rickshaw Ride, Blue Umbrella, Girl in a Raincoat, Cycle Savaari, Paperboat, Splashing Puddle, Croaking Frog, you can earn cashback in your wallet.
Rewards with Paytm Monsoon Mania (i) Win a flat Rs. 100 cashback in your wallet by collecting the top six puzzle pieces. (ii) Secure another Rs. 100 cashback by collecting the bottom six puzzle pieces. (iii) Earn a whopping Rs. 500 cashback upon collecting all 12 puzzle pieces.
The Benefits Of Paytm Monsoon Mania Offer?
By Making Transactions Through Paytm During The Monsoon Mania Offer Period, Users Can Earn Exciting Cashbacks And Rewards, Including A Chance To Win Grand Prizes. What's More, You Can Do This While Simply Completing Your Day-to-day Transactions!
Playing the Paytm Monsoon Mania Puzzle Game and Winning ₹700 Cashback
Visit the Paytm Monsoon Mania page.
Tap on a "Piece" to understand how to earn it.
Collect the "Top Half of the Puzzle" for an assured ₹100 Cashback.
Secure the "Bottom Half of the Puzzle" for another ₹100 Cashback.
Complete the "Entire Puzzle" for a ₹500 Cashback.
Complete the offers to win up to ₹700 cashback rewards.
How to Play in the Paytm Monsoon Mania Offer Puzzle Game
The Offer Applies to selected users, use the trick below to avail of this offer:
Trick: Scan & Pay, Add Money, UPI Money Transfer, Recharge & Bill Pay to get a scratch card and become eligible for this offer.
1.. First, ensure your Paytm app is updated to the latest version from the Play Store / App Store.
2. log in to your Paytm account and navigate to the home dashboard.
3. Look for the "Play & win ₹700 Paytm Monsoon Offer" on the home dashboard.
4. Alternatively, head to the Cashback & Offer section and find the Paytm Monsoon Offer.
5. Participate in the puzzle games to win ₹700 Paytm cashback.
6. Click "Start the tour now" to play the Paytm Monsoon Games.
7. Make payments to earn pieces: Scan & Pay, Add Money, or do Recharges & Bill Payments.
8. Win ₹100 for each half of the puzzle and ₹500 for the entire puzzle.
9. Receive a scratch card and win up to ₹700 Cashback by collecting all the puzzle pieces!
How to Collect Puzzles in Paytm Monsoon Mania
Make the following transactions to win a scratch card and collect puzzles: Scan and Pay, Mobile Recharge, Postpaid, Electricity, DTH, Rent Payment, Flight, Bus & Train ticket booking, Fast Tag & Gas Bill payment using Paytm UPI
The minimum transaction amount is Rs.10.
Pay using Paytm UPI of ₹10 or more to collect 1 out of 12 puzzle pieces.
A maximum of 15 transactions per day will count towards this offer.
You'll receive a puzzle piece upon successful completion of a transaction.
Terms and Conditions
a) The offer is applicable only to selected users.
b) Participants must scratch the cards located in the Cashback & Offer section.
c) Cards will appear on the Paytm Monsoon Magic homepage.
d) Cards will be credited within 24 hours after the transaction.
e) Rewards will be sent through the Paytm app within 24 hours of transaction completion.
f) Rewards will be provided as per the winner declaration date mentioned in the Paytm app and will be notified via email and SMS.
g) Cashback will be credited only to participants with full KYC wallets. If wallet KYC is not done, participants will receive cashback points (Conversion: Re.1 = 110 points).
h) Participants must ensure their correct email ID and mobile number are updated on the Paytm app. Paytm shall not be responsible for non-receipt of codes due to incorrect information.
i) The offer is on a "best effort" basis and valid only during the offer period.
j) Paytm reserves the right to extend, amend, modify, or suspend the offer or any part thereof, without prior notice.
k) The offer cannot be clubbed with any other offer or promotion and is non-transferable, non-cashable, and non-refundable. l) The allocation of the jigsaw puzzle and rewards is automated and determined by an algorithm, without any intervention by Paytm.
Paytm Monsoon Mania Offer Conclusion
The Paytm Monsoon Mania Offer Is More Than Just A Promotional Event. It Is A Powerful Tool To Promote Digital Transactions And Encourage A Cashless Economy. With Its User-friendly Features And Enticing Rewards, It's A Monsoon Shower You'd Love To Get Drenched In!